Riviera cruises

Riviera cruises
Riviera cruises from Riviera travel are some of the best value river cruises on the market today. Due to locations amongst other reasons it can be quite difficult to package a river cruise with 'good' flights that would cause the travelling passengers as little inconvenience as possible. Riviera Travel however does go that extra mile to make your river cruise holiday as seamless as is possible but at the same time keeping the price down to an affordable level. Where possible local airport departures are used so you know that every effort has been made to ensure your cruise holiday gets off to the best possible start.
When you travel on a Riviera river cruise holiday you can take comfort in the knowledge that all aspects of it will have been looked at with passion in order to get the best result and you get a fully tailored river cruise. This is not always the case with some of the 'bigger' names in cruising as they often pair a river cruise with a local tour company resulting in a disjointed experience which can often dash your expectations based on what you were led to believe when you booked your cruise holiday.
All Riviera tours are managed by Riviera tour managers who have been trained in house.
Riviera river cruises offer exceptional value for money and transparent pricing which includes all taxes and fuel supplements plus a guarantee of no surcharges should any increases occur after you have made your river cruise booking.
Prices are never artificially inflated so when you book your cruise the price will never change so you can book when you feel you want to without any worry about whether you should have waited or not.
Riviera Travel river cruise ships   Please click on images for further information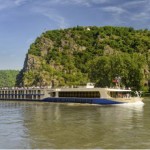 ms Charles Dickens
Say no to 0870. Contact us for Riviera Travel new bookings, prices and availability. Free geographic alternative telephone number or freephone telephone number. (Riviera Travel 01283 888 407) Call 01623 706328 or 0800 612 4872.